Dataman Implemented Microsoft Dynamics NAV in following Industries/Domains
Industry wise
Chemical Manufacturing
Automotive Manufacturer
Engineering Equipment Mfg.
Tea Industry
Construction
FMCG
Traders
Exporter
Depot/Branch Control System
Domain wise
Spices, Chemical, Pesticides, Detergent, Engineering Product (Industrial Pumps), Rugs & Blinds, Hosiery, Highway Construction, Adhesive, Medical implants, Automotive (Three Wheeler Mfg.), Electronic Devices, Tea Blender & Packagers
Microsoft Dynamics NAV - NAVISION ERP Software
(Previously known as NAVISION)
No matter what type of business you run, your business is run by people. And the more you can do to make sure they're armed with the information and tools they need, the better your business will be.
Microsoft Dynamics NAV ERP gives small and midsize businesses like yours complete control over your core business processes, the precision to perfect your supply chain, and the insight that employees need to perform at their best.
Download the Microsoft Dynamics NAV product overview.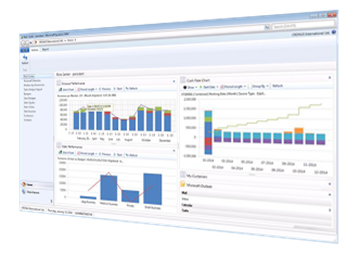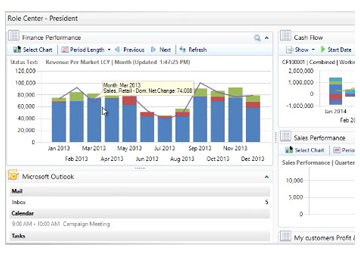 Connect, Collaborate, Deliver
It's the best way to run your business
Microsoft Dynamics NAV delivers the capabilities, performance, and ease of use trusted by more than 94,000 diverse businesses around the world.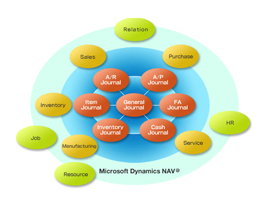 A business solution from Microsoft can replace your overworked and undersized accounting system, offering small and midsized businesses like yours a faster track to growth, plus a better way to take care of:
Financial management
Get a better handle on the numbers. Help contain costs, control compliance, and maintain crystal-clear visibility into your assets and cash flow.
Business intelligence and reporting
Base decisions on intelligence, not on emergencies. Get relevant data and recommendations today regarding the best course of action for tomorrow.
Supply chain management
Use your supply chain to spur growth. Sharpen your production and shipment schedules, help cut inventory costs, and give yourself room to grow.
Sales, service, and project management
Put customers first. Help increase sales, control projects and processes, and get what you need to delight your customers through every step of their experience.
It works the way
you want
Microsoft Dynamics NAV enterprise resource planning (ERP) system is easy to use and easy to deploy. So you can quickly, simply, and finally get beyond your overworked and undersized accounting software.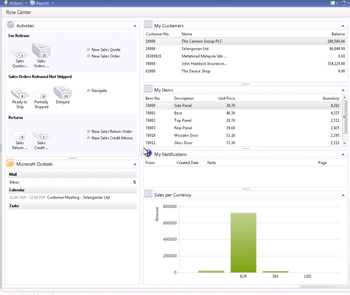 People get it. Microsoft Dynamics NAV looks and works like Microsoft Office. That means everyone can jump right in and get to work.
It works the way you do Microsoft Dynamics NAV is role-tailored to give your people relevant insights for their day-to-day work, and, with the right information at their fingertips, they can not only solve today's problems, but also they can plan for tomorrow.

It's on your terms. With Microsoft Dynamics NAV, your team can work when and where it works best at the office, at home, or on the road. Cloud and on-premises deployments give you the flexibility to choose what's best for your business.